EMPLOYMENT
Walter Knoll Florist employees work as a team. As an industry leader we believe in the Walter Knoll Florist way of look, style and feel in everything we do, from a professional attitude to a genuine smile that reflects a positive attitude which leads to a great working environment.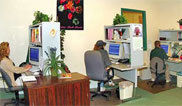 At Walter Knoll Florist, we tolerate nothing less than the best in every position. We do not categorize vertically but horizontally. We believe that a chain is only as strong as its weakest link. Walter Knoll Florist is a progressive forward moving and thinking company. The days are not boring and the ideas and energy are always plentiful and exciting. The saying "Never Say No to the Customers" is the greatest challenge in business. If you ask us a question the answer will be YES. It really happens here. We are always looking for the best people for our company. If this sounds like you, tell us a little about yourself. We are looking forward to your interview.
Walter Knoll Florist is proud to be a 100 percent drug-free workplace.
Available Positions
Experenced Florist - 2 year or more as a florist
We are always looking for the best florist to join our team
Resumes Always Welcome
Walter Knoll Florist and Harold's Wholesale Florist, always welcome resumes and job applications from highly motive future employees and friends.
Garden Center (sales, design work)
Work around plants and garden product!
Driver - Retail Floral
Great opportunity for a retiree to supplement income.
Florist - O'Fallon Missouri Neighborhood Store
Florist - Design and Sales - Join a growing team in a growing community