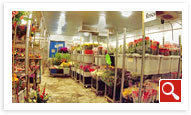 Walter Knoll Florist started in Saint Louis, Missouri, at the corner of Holly Hills and Idaho on April 4th, 1883. The Florist has been in continuous operation by the Knoll family since that time. Currently the company is being run by 4th and 5th generations of the family.

Walter Knoll is a full service florist, offering custom design by expert designers as well as nationally advertised features. We offer huge inventory and selection that only the largest florist can offer with quality and care that no grocery store florist can meet. Services include: State of the art ordering; 24 hour services; world-wide delivery; and competitive pricing. Complete satisfaction is guaranteed on all products and services.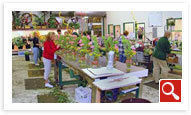 A Brief History
1883 - Opened Knoll Florist at Holly Hills and Idaho
1926 - Bought First Delivery Truck
1933 - Opened Gravois Location
1938 - Moved Gravois Store to South Kingshighway
1949 - Moved for South Kingshighway to 5501 Chippewa St
1959 - Walter Knoll Sr Passes Away Walter Knoll Jr takes over the business.
1965 - Walter Knoll Florist Expands the Chippewa Store to 8,000 sq feet
1968 - Walter Knoll Florist Installs first computer system.
1966 - Walter Knoll Purchases, Harold's Flowers, Gift Flowers, and Pelletiers Flowers
1977 - Moved wholesales operations into the century electric building
1985 - Walter Knoll Opened the First Floral Web Site in the world. Built the Arnold Greenhouse campus and plant acclimation center. Moved out of the Century Electric Building 1831 Chestnut to Arnold Campus
1988 - Opened Olivette Store
1991 - Purchased Herman Knoll Florist 8631 Watson Rd
1998 - Opened Ballwin and Saint Charles Store
2000 - Build and Moved into Design Center on Exchange Way

2001 - Moved Ballwin store to 14751 Manchester Rd
2002 - Moved Saint Charles Store to O'Fallon, Walter Knoll Florist moved it main office to historic Saint Louis Florist Row where we occupies more than 70,000 Square feet.
2005 - Build New Logistics Building Build new Training Building, Remodeled Offices
2007 - Merged with Netties Flower Garden.
2007 - Open Store at Saint Louis University Busch Center.
2010 - Moved Chippewa location to 4620 Hampton Ave, Our Flagship Store.
2011 - Merged with Don Defoe Flowers.
2011 - Merged with Lackland Florist.
2012 - Moved Ofallon Store to New Larger Location at 2516 Highway K.
Currently there are 8 Walter Knoll locations: 7 retail outlets, and 2 wholesale facilities.
Throughout its operation, Walter Knoll Florist has always and continues to invest in the most advanced technology available to our industry. Walter Knoll Florist' technological capabilities create the necessary efficiency within the organization to provide our clients with the level of professional service they deserve and we demand in an increasingly technological marketplace.
We believe in exceeding customer expectations and earn the title of your personal florist. We custom select flower shops in cities across the country with the highest qualification and capabilities to satisfy the most discriminating customer. We then monitor the performance of the shops we select and rate them often. Most florists we affiliate with have been personally selected to serve on our "Preferred Florist" list that we refer to when sending orders that are not in our delivery area. You can rest assured when you place an order with Walter Knoll Florist; our satisfaction guarantee is always included.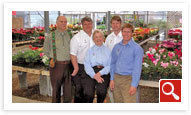 Once you place your first order with Walter Knoll Florist, we maintain any special information and all addresses of your recipients for your future use. Next time, all you need to do is make a selection and give us a name! Easy as that!

Simply let us know your list of special occasions you wish to be reminded of and we won't let you forget them. Our staff will be happy to notify you of special dates or occasions by email, standard mail, or phone. Call today and give us your list, or register online and set on up today! We won't let you forget anyone!

On holidays and special occasions you can call, email or fax us a list and we can do the rest.
Call 1-800-341-7673
Fax 314-633-8756
Or Email to sales@knollflorist.com