Do you listen to the Splendid Table on NPR?  I often catch a bit or more of it on the weekends and I heard something about a Green Tomato Merengue pie –  so I hit the splendidtable.org web site only to have no luck finding said pie – but I did have some ham I needed to use up and ran across a Chicken & Ham pie – and here is my adaptation of this pie originally from Plenty by Diana Henry. Copyright 2010
1/4 cup butter

3 leeks, cleaned and sliced into 1/2 inch pieces

1/2 cup flour, plus more to dust crust

2 to 2-1/4 cups milk

salt and pepper

1 tsp English mustard (available online, or substitute Dijon mustard)

2 cups leftover grilled chicken, pulled into chunks

1 cup cooked ham, cut into approximately 1/2 inch dice

1/4 cup or more chopped fresh flat-leaf parsley

lots of freshly grated nutmeg

1 puff pastry sheet (thawed if frozen)

1 egg yolk, mixed with a little water and salt
Melt the butter in a heavy pan and add the leeks.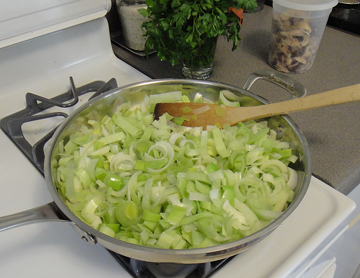 Cook gently for 5 minutes, add a splash of water, reduce the heat, cover the pan and sweat for 10 minutes. Add the flour and stir for 1 minute. Take the pan off the heat and gradually add the milk. Return to heat and bring to a boil, stirring; reduce the heat and simmer for 5 minutes. Season, and add the mustard, chicken, and ham. Heat through, then add the parsley and nutmeg to taste. Cool.
Preheat the oven to 400°F. Spoon the chicken into a glass baking dish (measuring approximately 8 x 9 in). On a floured surface, roll out a pastry sheet to the thickness of a quarter. Cut off a strip, wet it and wet the edge of your dish and place on the lip of the pie dish.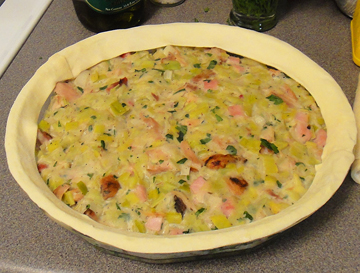 Lay the rest of the pastry on top, pressing down firmly. Trim off the excess. Crimp the edges and use pastry scraps to decorate. Make 3 cuts in the middle to let the steam escape.  Brush with the egg yolk and bake for 30—40 minutes, or until golden.
This would be really great to make with leftover turkey after Thanksgiving – just make a little extra pie crust when you are doing your pies.  I also think I will spice it up with some hot chili's next time.
and . . . speaking of Thanksgiving – we have a great ceramic pumpkin this year that makes a great centerpiece and later a cookie or candy jar!