The leeks in my garden are begging to be dug up – Time for Soup!
INGREDIENTS:
Olive Oil
Leeks
Shallots
Garlic
Rainbow Chard
Celery
Jalapeño (optional)
White wine
Potatoes
Chicken Stock
1 to 2 tbl Butter
1/2 to 1 cup of Milk
Salt (or homemade Celery Salt) and pepper
Slice leeks and shallots into 1/4 inch coin shapes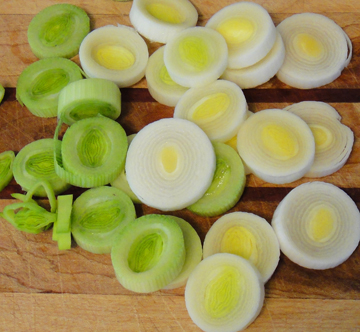 Smash and finely mince a large garlic clove
Remove the stems from the rainbow chard and finely dice
Finely dice some celery and the optional jalapeno
Heat a tablespoon or two of olive oil in a Dutch oven or soup pot.  Sauté the diced leeks, shallots, chard stems, celery, jalapeno and minced garlic on medium low for 15 or so minutes until soft and translucent, do not brown.
(While the onion mix is cooking, dice your potatoes approx 1/2 inch.)
Add about 1/2 cup white wine to the cooked onion mix and turn the heat up to medium high – stir and scrape up any bits while reducing the wine until it is gone.
Stir in the potatoes and chicken stock and enough water to cover the vegetables by about an inch.  Cook on a low simmer for about 30 minutes until the potatoes are tender.  While the potatoes are cooking slice the rainbow chard leaves into 1/2 inch strips.  Add the chard to the soup about 10 minutes before the potatoes are tender.
When potatoes are tender, stir in a tablespoon or two of butter and 1/2 to 1 cup of milk.  Do not let the soup boil once the milk is added.
Serve with a sprinkling of celery salt or freshly chopped parsley.
This is my first year to grow leeks and I never got around to looking up care and harvest info on them.  A few of my leeks have bloomed – the flowers look like those giant purple allium blooms only they are white.  Garlic chives have white blooms also.  I noticed on a slice from a leek that had bloomed that the flower stem goes all the way to the root.  It was tougher in texture than the other leeks but it cooked up nice and soft.
I am so proud to tell you that the leeks, garlic, shallot, chard and celery are all from my garden!  Drought?  What drought?