Oh you know my co-workers need a treat this week before Valentine's Day
. . . so I got busy with some very fun cookies –
It was all in the decorating and everyone had a great laugh.
You would not believe how long it took each person to pick out a cookie to eat!
Hello, they all TASTE the same!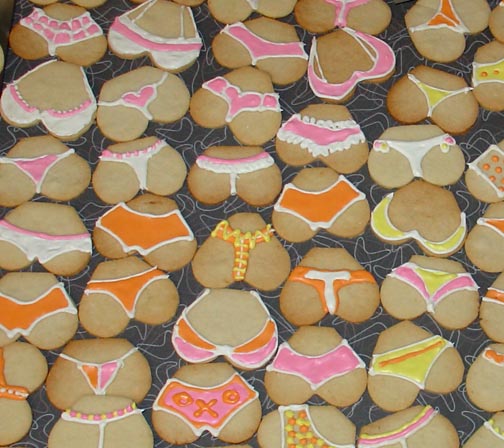 LEMON SUGAR COOKIES
(adapted from a Good Housekeeping recipe)
1 lemon
3 cups all-purpose flour
1/2 teaspoon baking powder
1/2 teaspoon salt
1-1/4 cup(s) sugar
1 cup unsalted room temperature butter
1 large egg
1 teaspoon each of lemon and vanilla extracts
Grate 1 to 2 tablespoons lemon peel and squeeze 1 tablespoon juice. Set peel and juice aside.
On waxed paper, combine flour, baking powder, and salt with a whisk. In a large bowl, with mixer on low speed, beat sugar and butter until blended. Increase speed to medium-high and beat for approx. 3 minutes or until light and creamy – frequently scraping the bowl. Reduce speed to low; beat in egg, lemon & vanilla extracts and lemon peel and juice until combined. Beat in flour mixture, just until mixed, occasionally scraping bowl. Divide dough into 4 equal pieces; flatten each into disk. Wrap each disk in plastic wrap and refrigerate 1 hour or overnight, until firm enough to roll.
Preheat oven to 350 degrees F. On lightly floured surface, with floured rolling pin,
roll 1 disk of dough to 1/4-inch thickness. With floured heart shaped cookie cutters,
cut dough into as many cookies as possible –
cut off the pointy end of each heart shape; wrap and refrigerate trimmings to re-roll later.
Place cookies, about 1 inch apart, on ungreased cookie sheet.
Bake 10 to 12 minutes or until lightly browned.
Transfer cookies to wire racks to cool, about 10 minutes.
Repeat with remaining dough and trimmings.
Decorate with Royal Icing (see recipe below) made with lemon juice.
Allow frosting to dry completely before adding a second color, about 1 hour.
Store in tightly sealed container (with waxed paper between layers)
at room temperature up to 2 weeks or in freezer up to 3 months.
ROYAL ICING
(adapted from a Martha Stewart recipe)
Makes 2-1/3 cups
1 box confectioners' sugar (1 pound)
5 tablespoons meringue (egg white) powder, or 2 large egg whites
In the bowl of an electric mixer fitted with the paddle attachment, combine sugar and meringue powder. Mixing on low speed, add a scant 1/2 cup lemon juice. For a thinner consistency, usually used for flooding, add more water. A thicker consistency is generally used for outlining and adding details. Mix until icing holds a ribbon-like trail on the surface of the mixture for 5 seconds when you raise the paddle.
Now you won't find these cookies for sale at any WKF location, not even on our amazing web site – but we do have some wonderful chocolate covered strawberries to send with your roses this year –
decorated with dark, milk and white chocolate and packaged with red confetti and a white doily in a corsage box – made to order by our friends at the Blue Owl in Kimswick, MO – you're gonna love them!  Available on our web site or in our stores – BY THE WAY we've got better prices on cash n carry roses than you'll find at your local grocer – and our roses are FLORIST quality – we may arrange for strawberries on Valentine's day – but we're not stocking milk and eggs!