Mr Stinky (my amorphophallus plant) finally came up out in my yard around Father's Day – easily at least a month later than last year's arrival.  It has grown so quickly and reproduced a dozen babies – check 'em out!
The large one is over 5 feet tall and the stem is at least 3 inches across – that means the rhizome must be the size of a football!
Here is another unusual thing in my garden – an Italian tomato call Cuore Di Bue (which means Heart of Ox) – It's a fancy oxheart type tomato with lots of flesh and not much seeds.   Have not had any turn red yet, but I'll post a pic when they do!  How's your garden growing?
My black eyed Susan (rudbeckia) is blooming gangbusters!  And spreading out nicely – Lots of flowers to cut and bring inside in a vase!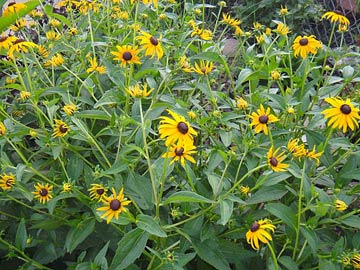 What?  You don't have flowers in your yard to cut and enjoy!  Well stop into any Walter Knoll Florist location and check out our Summer Roses – a full dozen are only $12.50 cash n carry – at $12.50 a dozen, I think you'll want 2 or 3 dozen!   What a perfect day to take a dozen roses over to your neighbor who is grabbing your newspaper off your front lawn while you vacation next month!
Or we have mini hydrangea bunches at wholesale pricing too – $24.95 for a mixed pastel colored bunch.  (While supplies last)