Anyone who has driven South from the City of St Louis has seen this sign
Last Saturday that man who calls me his wife (I'm not) and I headed over to the Lodge at Grant's Trail for their Breakfast Buffet – only to find they are only offering the Breakfast Buffet on Sundays now. No problem, we live close, we went back on Sunday and loved it!
Our hostess, Carla, seated us in front of a fireplace under Bullwinkle and we were quickly brought a pot of the most delicious coffee as well as what tasted like fresh OJ. Okay, I thought, this is gonna be good – and it was.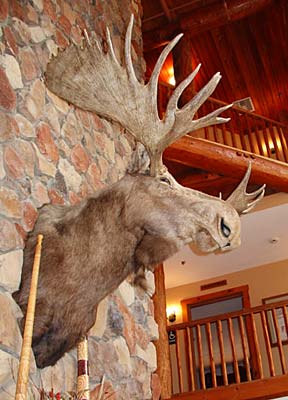 Although omelets, eggs and Belgian waffles were available to order, we were quite content with the buffet which included fresh fruit salad, delicious biscuits & sausage gravy, perfectly crisped and hot bacon and fat link sausages, pancakes, and plain and cheesy scrambled eggs. As usual with me I took a bit of everything and had trouble cleaning my plate, but that man of mine managed to eat three moderately sized plates of food. We loved it and will be going back for more!
Chef Vicky told us the menu will be changing in June and will include Eggs Benedict! I'll be heading back for some of that!
The only thing missing at the Lodge at Grant's Trail was a nice bouquet of fresh flowers on the bar – hmm . . . I bet I know someone who could remedy that!
For more information on Orlando's or the Lodge Lodge at Grant's Trail and Orlando's Garden Banquet Centers