Anyone who listens to 105.7 the Point's Woody and Rizzuto Show knows we are working with them to help get folks out of the "dog house" with flowers, and you have probably heard Woody going on about the great Bacon Burgers at Kendrick's Meat Market in South County.  Well, I love bacon and all pork for that matter, so I had to check the burgers out.  Fried a couple up for breakfast while down in Creekieside near Ironton, MO at my friend Rick's place – good stuff!  I think they are a mix of bacon and pork with just a bit of pepper added for seasoning.  Not being cholesterolly able to eat bacon day after day for breakfast, I found myself with some left-over patties which I incorporated into a sort of Bolognese sauce with great results!  Here's the recipe
Bolognese Sauce
1/4 cup  Olive Oil
2 cups Grated Carrots
1 whole Large Red Onion, Diced
3 bacon burger patties from Kendrick's, shredded
1 can (6 Ounce) Tomato Paste
5 cloves Garlic, chopped fine
1 to 2 cups White Wine
2 Tablespoons Worcestershire Sauce
2 28-Ounce cans Whole Tomatoes
1 28-Ounce can Crushed tomatoes
2 cups Milk
¼ cup Fresh Oregano Leaves
½ cup Fresh Basil Leaves
Salt And Pepper, to taste
Fresh Parmesan Cheese
Heat oil in a large Dutch oven or skillet over medium heat. Add grated carrots and onions and cook for a few minutes. Make a well in the center of the mixture, and then add in the ground beef.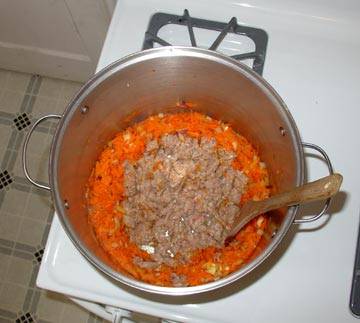 Cook for a few minutes until brown, gradually stirring it into the carrot mixture.  Make another well and add tomato paste and stir while it toasts up. Add garlic and stir to combine.  Add wine and Worcestershire and cook for a few minutes, stirring, then add the canned whole and crushed tomatoes.  Stir to combine, then add milk and oregano and basil. (Use fresh herbs if you have them or if using dried herbs, use half the amount).   Let simmer for 30 minutes to 2 hours—however long you need.
Serve with pasta and a generous sprinkling of Parmesan Reggiano.
I'm thinking this could be a great New Year's meal served over my homemade noodles with a garlicky Ceasar salad!  Maybe a grilled flank steak sliced thin and tossed into that salad!
Or take the easy route for a holiday meal and check out the gourmet dinners we offer at wkf.com