Walter Knoll Florist was pleased to decorate and design floral centerpieces for The Marlin Perkins Society's annual Black-tie Recognition Dinner last night at the Ritz Carlton in Clayton. Spheres was the word of the day!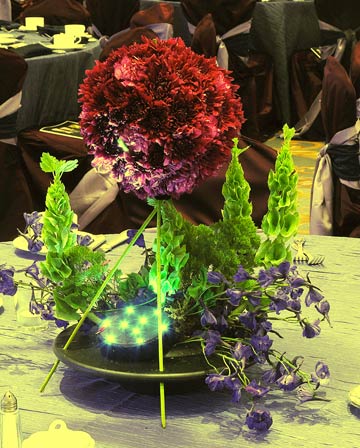 The following is from the St Louis Zoo website:
Today, the legacy of Marlin Perkins – his compassion for the world of animals, his desire to conserve endangered species, and his commitment to sharing that message with others – is carried on by the Saint Louis Zoo's Marlin Perkins Society. More than just a charitable concern, the Marlin Perkins Society is key to the many attractions and programs at the Zoo.
By joining the Marlin Perkins Society, you can help the Saint Louis Zoo in its efforts both to serve our millions of visitors each year as well as to help save wild things in wild places. Gifts to the Society are made through the Saint Louis Zoo Friends Association, one of the support organizations for the Saint Louis Zoo. This Association has been in existence since 1963, and it helps the Zoo achieve its goals and maintain its status as a world-renowned institution by providing financial support, public awareness, human resources and education. The Marlin Perkins Society is one of the critical programs necessary to the Friends' success.
Walter Knoll Florist designers can do custom designs for your party or event or wedding also! Short on ideas? We've got lots of ideas!