I love my little kitchen torch – but had never used it for anything but creme brulee and you know creme brulee is not something you should eat a lot of . . .
I made these little lemon cookies one day and thought, hmm, why not decorate them with a bit of carmelized sugar!
Lemon Crème Brulee Cookies
1 cup sugar
3/4 cup butter
3 ounces cream cheese
1 tablespoon finely grated lemon zest
1 tablespoon lemon juice
1/2 teaspoon vanilla
1/2 teaspoon salt
1 3/4 cups flour
2 tablespoons freshly minced thyme leaves (optional)
Place the sugar in the bowl of a food processor, and process until it's very finely ground, about 1 minute. Add 3/4 cup butter and cream cheese, and pulse until just blended.
Add the lemon zest, lemon juice, vanilla, and salt and pulse briefly. Add the flour (and thyme if you are using) and pulse until just blended. Roll dough into two logs about 1-2 inches in diameter, wrap in waxed paper, then stuff into an old paper towel tube and chill until firm.
Preheat oven to 350 degrees. Cut 1/4″ slices from the log of dough and place them on a cookie sheet.
Bake 8 to 10 minutes, until browning slightly around the edges. Remove cookies to rack to cool.
When cookies have cooled, put them all back onto the sheet pan and sprinkle each cookie with about ½ tsp of sugar – get your handy torch out and fire away –
You can also freeze your log of dough, refrigerate until firm, remove from paper towel tube and wrap in plastic wrap. You don't even have to thaw the log before you slice and bake!
This little trick of using a ruler or any flat edged piece of something firm is great for forming a smooth even log – and the paper towel tube keeps the log round while it hardens up in the fridge.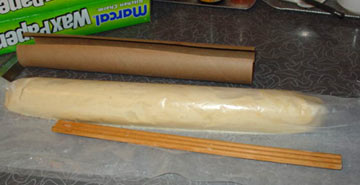 Although you won't find these cookies for sale at WKF – we do have lots of sweet offerings – always welcome for any occasion!