Got up way too early this morning (still not adjusted to the time change) and started poking around some old cook books for something to bake. Ran across my first self-published 1992 book "Cooking With Di" – It has loads of typos and as you can see it has been well used! The cover illustration (Richard Cherneff) is an aerial view of my old Damen Garden kitchen in Chicago – As I look at it I am overwhelmed with memories – my old house canisters, the soup tureen I never used, that tiny apartment with the huge yard and a kitchen sink that was right at the bathroom door! . . . That kitchen had no cabinets or counters but a friend who was remodeling his kitchen donated his old cabinets – Martha and Richard and I hung those cabinets – and when I worried about our lack of cabinet installation skills, Richard hung from the upper cabinets to assure me they could hold whatever I put in them.

Anyway, enough reminiscing! Here's a recipe from Cooking With Di that I got from Karen Smith – I think it was her mother's friend Lotta's recipe – It calls for everything to be weighed and I didn't have a cooking scale back in 1992 so I figured out what the measurements could be and here is what I baked today – this is a double batch recipe – makes about 100 cookies. They freeze very well – just wrap them well after they have cooled and you'll have fresh yummy cookies for weeks!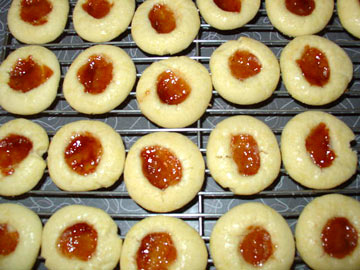 Karen's Red Currant Jelly Cookies
4 egg yolks (plus another mixed with a bit of water)
2-2/3 sticks of softened butter
2 cups sugar
4 cups all purpose flour
about 5 ounces Red Currant Jelly

These are easilly made in a bowl with a sturdy wooden spoon, but I got the Kitchen Aid out
Preheat oven to 325F. To softened butter add sugar until well combined – add egg yolks one at a time and when well incorporated add the flour one cup at a time, incorporating the flour well before adding next cup – Dough will be stiff.
Shape dough into 1 inch balls and lay about 1-1/2 inches apart on ungreased cookie sheet. A small scoop works great for getting the same amount of dough for each cookie. Poke a dent into each ball (not too deep, the bottom will fall out after baking).

Brush each cookie with egg wash and then put small amount of jelly in each hole.

Bake 9 to 12 minutes – do not brown. Cool on racks.
These cookies are always everyone's favorite – Just ask Joe!