Memorial Day used to be known as Decoration Day, originating after the American Civil war to commemorate the Union and Confederate soldiers who died in the Civil War.  It is now extended to honor all Americans who have died while in the military service.  (Not to be confused with Veterans Day which celebrates the service of all U S military veterans, living or dead.)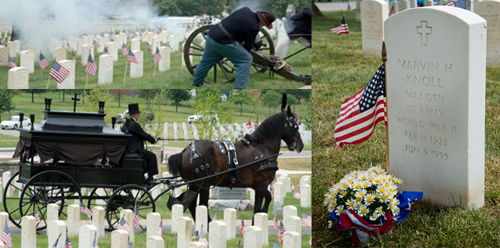 All Walter Knoll Florist shops are stocked with patriotic red, white and blue cemetery cones for decorating your loved one's final resting place.  Stop in for one or call us if you would like a custom piece made.  Our LaSalle location at the corner of California and LaSalle streets will be open Monday, May 27 from 9am to 1pm.
Memorial Day marks the start of summer – which means an abundance of new flowers and WEDDINGS.  Walter Knoll Florist's wedding team is top notch – if you can think of it they can design it. They can be reached at 314 633-8780.  Take a look at this beautiful bouquet with astilbe flowers.  So Pretty!
Summer flowers are starting to come in: sunflowers, larkspur, cottage yarrow, scabiosa, kale, asters, engyrium (thistle), fancy Gerbera daisies and even dahlias!  Come see for yourself.