I've made these 4 or 5 times, finally "measured" and photographed them. 
The marshmallows in the batter melt into it to make a really chewy gooey brownie – the neighbors' favorite!
S'more Brownies
1 18.4oz box Betty Crocker Original Supreme Premium Brownie Mix with Hershey's Syrup in Pouch.
2 cups mini marshmallows (divided)
1 pkg of 9 graham crackers (divided)
For the brownie mix:
1 egg
¼ cup water
¼ cup oil
Preheat oven to 350F.  Line bottom and sides of an 8-1/2" x 11-1/2" (quarter size) sheet pan with parchment paper.  USE PARCHMENT or you'll never get it out of the pan.
Break up about half the graham crackers into ½ or so size pieces into the bottom of the lined pan. 
Mix brownie mix per package instructions. 
Fold in 1 cup of mini marshmallows and spread mixture onto broken grahams in lined sheet pan. 
Break up the remaining crackers over the mixture and bake for 15 minutes. 
Remove from oven and sprinkle remaining 1 cup of mini marshmallows over mixture and put back in oven for 15 to 18 minutes.  Toothpick will come out with crumbs on it – find a spot with no marshmallows to test.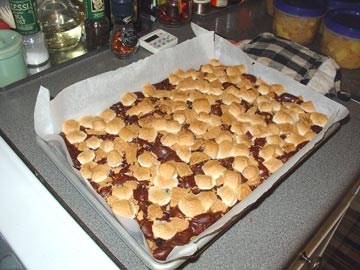 Allow to cool before slicing.  Use a knife dipped in hot water to cut into desired size portions.
Are you looking for a cute Halloween gift to send?  Check out our "Hey Jack" mug bouquet
Not exactly Jack Skellington, but just as cute, our Halloween pumpkin face mugs are just the seasonal gift with a bouquet of orange roses, statice, wax flowers, grevelia and purple ting ting.