Brr it's cold outside and the streets are a mess – luckily I can work from home today as I have a lot of computer work to do getting all the marketing ready for Valentine's Day – after about four hours of uploading pics and describing flower arrangements I was ready for some sustenance – and realized I had some homemade tortellini in the freezer and some left over sauce!  Then I remembered I had photographed making the tortellini so aren't you lucky you stopped by the Amusing Florist blog today!
I use a Marcella Hazan recipe published in a Bon Apetit magazine from the early 80s.  Noodles were one of the first things Gramma taught me how to make – I remember at a very young age standing on a chair and grating noodle dough into a pot of boiling water.  Eventually I got to mix dough and roll it out with a rolling pin over newspaper – the cartoon section – had to be able to read the cartoons through the dough – so anyway, this is easy for me – with some practice you can master noodle dough too.
For the pasta:
10 oz pkg frozen leaf spinach, cooked, cooled, drained and squeezed dry and chopped fine
3 to 4 cups unbleached flower (oops, I mean flour – Valentine's on the brain today)
4 large eggs
1 tbl extra virgin olive oil
1 tsp salt
pulse the spinach with 3-1/2 cups of the flour in your food processor, add eggs, olive oil and salt and pulse until it comes together – poke it with your finger, if it is sticky add more flour a little at a time until it is a cohesive but slightly crumbly mass.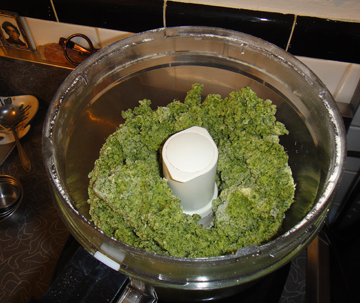 dump the dough out onto a lightly floured surface and knead it for a minute or two until smooth – then shape into two disks, wrap in plastic wrap and let the dough rest for about an hour.
When you are ready to roll it out, you can find all kinds of instructions on the internet for rolling and shaping dough.  I use a crank roller and dream of the day I can buy that pasta roller for my KitchenAid mixer!   My roller has 6 settings and I roll my dough out to #5 "thinness" as I like a little "tooth" to my tortellini and I find that #6 sometimes has blowouts when the tortellini cooks.
While your pasta is resting you can prepare your filling.
1/4 to 1/2 pound (Marcella's the recipe called for pork butt but I like to use a lean cut)
1/4 to 1/2 pound veal shoulder – I could only find ground at the market and it worked out fine
2 tsp butter
1/2 to 3/4 cup fresh ricotta (ricotta salata from Viviano's is my choice)
2 tbl mortadella, chopped very fine (Viviano's)
1/2 cup grated parmigiano-reggiano cheese (again Viviano's)
1 or 2 egg yolks
Freshly grated nutmeg (to taste, I like lots and lots of nutmeg)
salt and black pepper
Cut the pork and veal into thin slices and then into small dice – keep the meats separate.  Cook the pork in the butter for about 5 minutes, browning all sides, then add the veal and cook for only a minute or two – just until the pink is gone.  Add a bit of salt and pepper, stir to coat well, then drain and cool.
When the meat is cool enough to handle, chop the pork and veal together to a grainy, slightly coarse consistency.  Put the chopped meat into a bowl and add the ricotta, grated cheese, egg yolk and at least 1/4 tsp of freshly grated nutmeg.  Add the finely chopped mortadella.
Mix well, then taste and correct for salt and pepper (and nutmeg).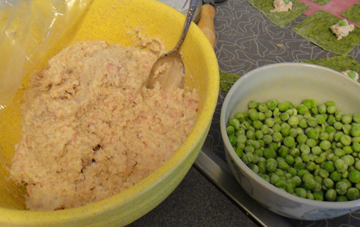 Time to roll out the dough – this recipe is a double batch, only roll out 1/2 a disk of dough at a time or the pasta gets dry and doesn't stick to itself to form the little Venus' navels.  Cut 1-1/2 to 2 inch squares, put about a 1/4 tsp of meat filling in the center, top with one pea (my addition, nothing better than the pop of a pea when you bite into a tender tortellini!)
Shape your tortellini by folding opposite corners together to make a triangle, then flip it and pinch the wide ends together, the point will kinda flip on its own.  Set your tortelli on a cookie sheet, freeze until solid then store in zip lock bags in freezer for up to a couple months.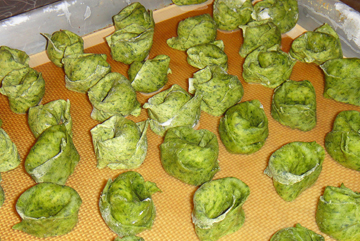 Now for the sauce – and this is the easiest most delicious tomato cream sauce ever.
1/3 cup butter
1/4 cup each onion, carrot, celery, all chopped very fine.
1 large can imported Italian plum tomatoes with their juice
pinch of salt
1/2 cup heavy (high fat) whipping cream, at room temperature or warmed slightly
Lightly saute celery, onion, carrot & salt in butter until onions are translucent.  Add tomatoes and cook for 45 minutes at a low simmer.
Bring a large pot of water to boil and add frozen tortellini – they will only take 3 to 5 minutes to cook.
When carrots are tenderm puree tomato sauce in blender until smooth (or use one of those handy dandy boat motors!) – return to pot, add heavy cream and warm it back up but do not boil.  It is important to use heavy cream at room temp or even warmed up a bit in the microwave, ALL OTHER MILK PRODUCTS curdle – although it will taste fine it looks ugly.
Top your tortellini with the tomato cream sauce and some freshly grated parmigiano-reggiano and dive in.  You'll want to eat this with a spoon!
Okay, back to work – check out our Valentine's Line Up – we have some great flowers and gifts for you!