Don't you love to see fields of sunflowers blooming when you are on a road trip?  They are everywhere, not just in Kansas.  I imagine most of those sunflowers go to sunflower seed and oil production.  I read lately the stalks and leaves are used for cattle feed.  At Walter Knoll Florist, our sunflowers come from around and out of the country from growers that grow specifically for florists.  We have an abundance of beauties in stock – so you get them at a great price.  Through August 12 we are offering beautiful sunflowers at $1.50 per stem (walk-in customers only), so stop in soon!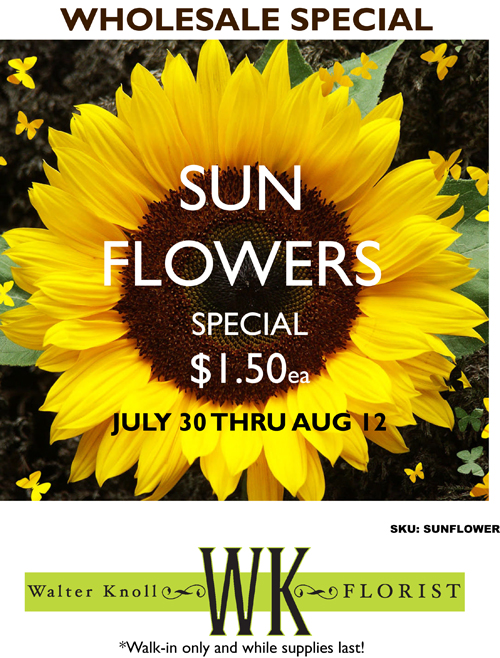 Sunflower Sale
We also have a special bouquet of sunflowers, Kansas Afternoon, at $5 off through August 12 if you want to order online for pick up or local delivery.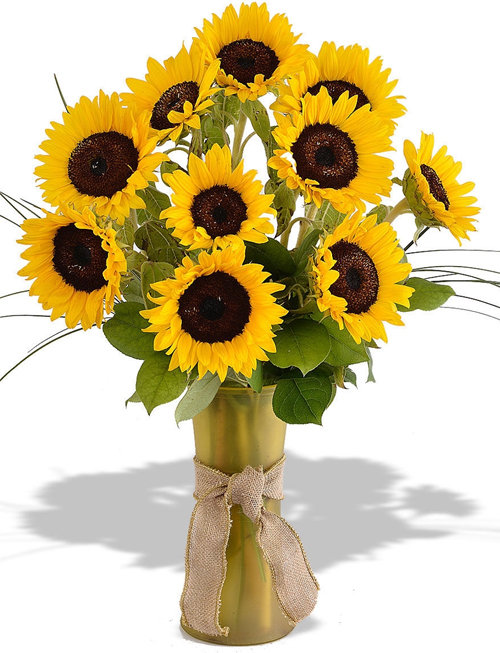 Did you plant sunflowers in your garden this year?  I must have planted 100 seeds but thanks to the abundance of bunnies this year only a few plants have made it to bloom.  Glad to have a few because the sunflowers attract the sweetest little yellow and black birds.  I believe they are American goldfinches.  Here is a link to the sounds of the American goldfinch.
Here are a few things I have lately learned about sunflowers.  The sunflower (Helianthus annuus) is an annual plant native to the Americas. It possesses a large flowering head, and its name is derived from the flower's shape and image, which is often used to depict the sun. The circular flower heads consist of many individual flowers which mature into seeds – often hundreds of seeds. The flower petals within the sunflower's cluster are always in a spiral pattern. Generally, each floret is oriented toward the next by approximately 137.5°, producing a pattern of interconnecting spirals. Typically, there are 34 spirals in one direction and 55 in the other; on a very large sunflower there could be 89 in one direction and 144 in the other. This pattern produces the most efficient packing of seeds within the flower head.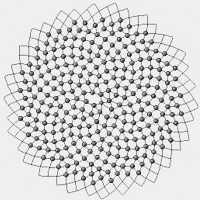 Okay, this ends your lesson for today!