There's a NEW holiday tradition being added to St. Louis's social calendar this year! "Holiday Magic" comes to America's Center, December 4-6, and it promises to be an exciting and entertaining event for families and shoppers. Enjoy wood carving demonstrations and hands-on crafts, a dazzling light show with over 40,000 holiday lights choreographed to holiday music, and a full-scale indoor carnival.
And best of all . . . Walter Knoll Florist will be there with a special treat for children . . .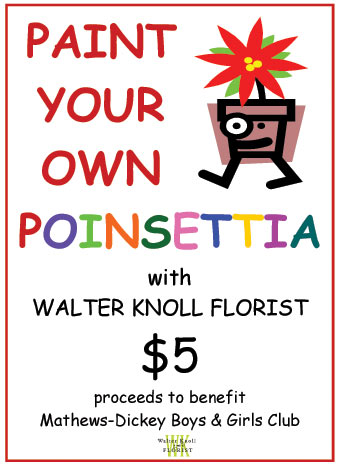 It's gonna be great – we'll have hundreds, maybe thousands of white poinsettias for kids to paint – as well as protective gear to keep their little outfits tidy – so come on down and get in the Christmas Spirit!
As we prepare and set up our booth for the big show we are also installing over 75 real live Christmas trees around the center-complete with lights!
And our booth will have lots of fully decorated trees and ideas as well as special "show" pricing – there will be ornaments and garland and wreaths and swags you can buy and take with you and we will also have on display our Holiday Arrangements (you may have seen them on our Holiday Unwrapped 2009 brochure we mailed out last week) – so come on down, bring the kids (and $5 of course-proceeds benefit Mathews-Dickey Boys and Girls Club). Tell 'em Di sent you!
Speaking of poinsettias – you know it's an old wives tale about them being toxic, don't you? Well, although we don't recommend you eat them, they are NOT poisonous.
Here is a pic of a poinsettia painted by a 73-year old!
Can't get down to the Convention Center this weekend? Don't despair – visit our garden center at California and LaSalle and see all our poinsettia varieties – here's a sampling!